After a few low-key days enjoying the crisp, clean outdoor version of Norway, we crossed our way over the Norwegian countryside (pretty sure I saw a moose) & found ourselves in Oslo. Of any of the places we've traveled thus far, this feels the most like home for us (hopefully no Norwegians take offense to that).
I'm not sure why it reminded us so much of home but for some reason we were able to slide into the vibe & routine of the city, finding local bars & yoga classes, without much issue. Maybe it was that for once we had a preplanned social life. Typically, if we end up with plans for drinks etc. while bouncing around its with people we've met on the fly; other backpackers in a hostel or tourists enjoying the same day tour, but in Oslo we knew people living in the city & could met up for drinks one night & a coffee date later in the week. We're such social butterflies!
Oslo's municipality has roughly the same size population as D.C. & has a lot of the same vibes; artsy "up & coming neighborhoods", historical districts & a budding waterfront for fancy business & residential areas. Of course, they have a beautiful palace, but then we fought a fairly well-known war to not have any such thing. Our favorite city feature was the beautiful fjord & waterways that dot the coast of Norway. The Potomac may be nice (in some areas…) but it doesn't hold a candle to the beautiful waters around Oslo; we spent the better part of an afternoon lounging around dockside, munching on take out salads & just starring at the hundreds of boats that call the various marinas home.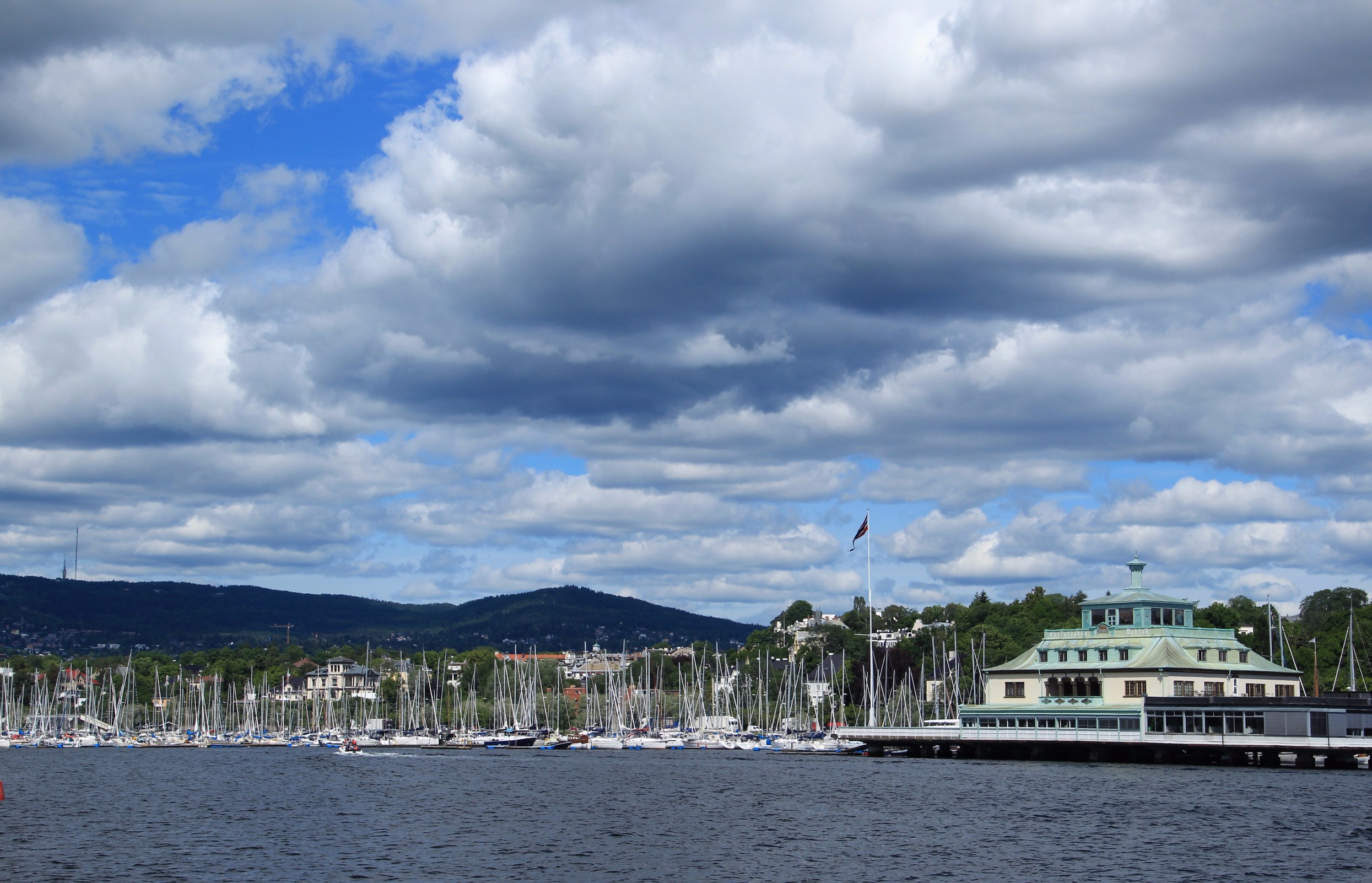 It is clear this city is built for summer. Numerous islands sporting summer homes & marinas, it seems like every Norwegian must own a boat or house on the water. On a nice day, you can see locals boating to & from Aker Brygge or jumping off the edge of the walkway near the modern art museum.
We took advantage of a clear afternoon to check the ferry over to Bygdøy peninsula which, besides being a gorgeous neighborhood, boasts "museum row" including my favorite the "Viking Ship Museum". Being a huge history nerd & currently obsessed with the History Channel's version of the vikings, I geeked out at the chance to learn more about them. Oslo must have the largest, or one of the largest, concentrations of museums in any city. You have no shortage of things to do & pay for (chalk one up to the free museums of D.C.!) while visiting.
Ben had visited Oslo in 2014 & was amazed at, in just a few short years, the shear amount of change that is happening in the city. Visibly, Norway is investing heavily in the development of Oslo. From the new construction around the Opera house containing libraries & cultural centers, to the Barcode district, Oslo has cleaned up previous unattractive & undesirable areas into major metropolitan commerce centers. If you don't believe all the construction just play "spot the crane" in our pictures, they're everywhere! In addition, due to some heavy government subsidies on electric vehicles, Norway also sports the world's highest amount of Teslas per capita. It truly seems that Oslo is progressing to be one of the best places to live & do business in the world.
While we enjoyed our visit to Oslo, coming up with something groundbreaking to write was actually rather challenging. Oslo was less of a "touristy" place, but a comfortable city we could easily see calling home. They also seem to have a sense of humor…
While not necessarily budget friendly (thanks to $18 beers…), Oslo should definitely be on everybody's list to visit & at the least a summer jumping off point to the natural wonders Norway has to offer.