As I sit back in the DC area, back to our "old life" & in nearly sub-freezing temperatures, Thailand feels so far away. As you could tell, it has been forever in blog life since we have put out a new post. While we completed our travels, our personal & family lives have demanded our attention for awhile & I am grateful for all the messages we received wondering what on earth happened to us?! Well to save my sanity & bring a little light back to the cold, dreary month of January, I am finally at a place to sit down & continue our story.
There were only a few places on this trip where we'd been tempted to never leave. Two of those now have been in S.E. Asia, as we sat on the shores of Chalok Baan Kao Bay on the island of Koh Tao. The islands of Thailand have it all – they are plentiful, gorgeous destinations with something for everyone from the tourist party scene to the remote & earthy.
We had spent a few relaxing days on the island of Koh Lanta, meeting up with friends, taking advantage of some major pampering & R&R, before bouncing across to Koh Tao. By bouncing I really mean roughly 12 hours of travel between the beautiful Pimalai Resort by boat, van, bus & then ferry ride over to Koh Tao. Island hopping isn't always all it's cracked up to be. But we were on a mission. We had picked Koh Tao for one main reason – we were getting our scuba certification!
I'll be 100% honest here that I wasn't fully into this plan until a few days out, when the panic set in. "Wait – why did we decide to do scuba diving??" "HOW did you hear about this place again??" "Is it actually SAFE in Thailand??." I fired off all these questions & more at Ben. Obviously putting all the weight on him to ensure we survived this whole experience, as clearly, I had never meant to be a willing participant. I just hadn't paid much attention to details when we discussed it.
After a long day of travel, we were picked up from the ferry dock by a guy who loaded us into the back of his pickup. This had become so common I never worried if we were about to be dropped off in the jungles & left for dead anymore. Seemed legit to us. As did the drop off in a dirt lot, instructions to walk down the beach, over a cement walkway, through a restaurant & around the bend to our scuba school & "lodging". I use that term loosely as, even with everywhere we'd stayed, this may have been one of the worst arrangements we'd walked into. Commence another panic attack by yours truly. I am a little bit embarrassed to say that even after all this time & all the wild range of places we had stayed, this one pushed my limit & we relocated the very next day. Even I can only handle so many critters, sagging floors & frightful bathrooms. On a big plus – we found a gem of a bungalow, feet from the ocean!
I do not regret our decision.
Another small win? Our new spot also provided us with onsite puppy love! OK, technically she wasn't "provided", but this little lodge pup did not move from our side the rest of the week. We named her K.T., obviously, & her constant presence outside our door helped fill our puppy withdrawals. We'd soon learn our little bay had multiple furry residents which were all apparently starved for attention.
While K.T. took a liking to me, Ben made a new bestie we called "flipper". He earned his name after swimming 400 meters after Ben through the bay one day. Obviously, flipper had 0 idea what he had gotten himself into, which left me standing on the cement dock debating if I'd have to jump in & pull this random dog to safety. Luckily, he made it to shore & I was spared any scratches, or worse, attempting a rescue. He barely left Ben's side afterwards.
These two became so possessive they'd argue amongst each other on who had rights to sit on our porch. We had to hide & try to lose K.T. on our walks into the main town. She'd end up following us, upsetting other dogs when she strolled through their "territories" & there we'd be, stuck trying to figure out how to avoid a doggy showdown. Before we left, we added a handful of other pups to our little collection. Ben wouldn't let me bring any of them home ☹
Despite the direction that this post has taken, we were not here to lay in the sand & make dozens of new puppy friends. Thankfully, not all first impressions are correct. While I was beyond disappointed with the lodging, the scuba instruction itself was phenomenal. I cannot overstate what an awesome time I ended up having. Not that it all went, err, swimmingly, mind you. One rough water day I'd nearly had my fill of attempting to float with a giant tank on my back while wave after wave crashed in my face. I hated learning to flip my mask underwater, salt burning my eyes, & I'm still not sure my hair recovered from 4 days of straight submersion.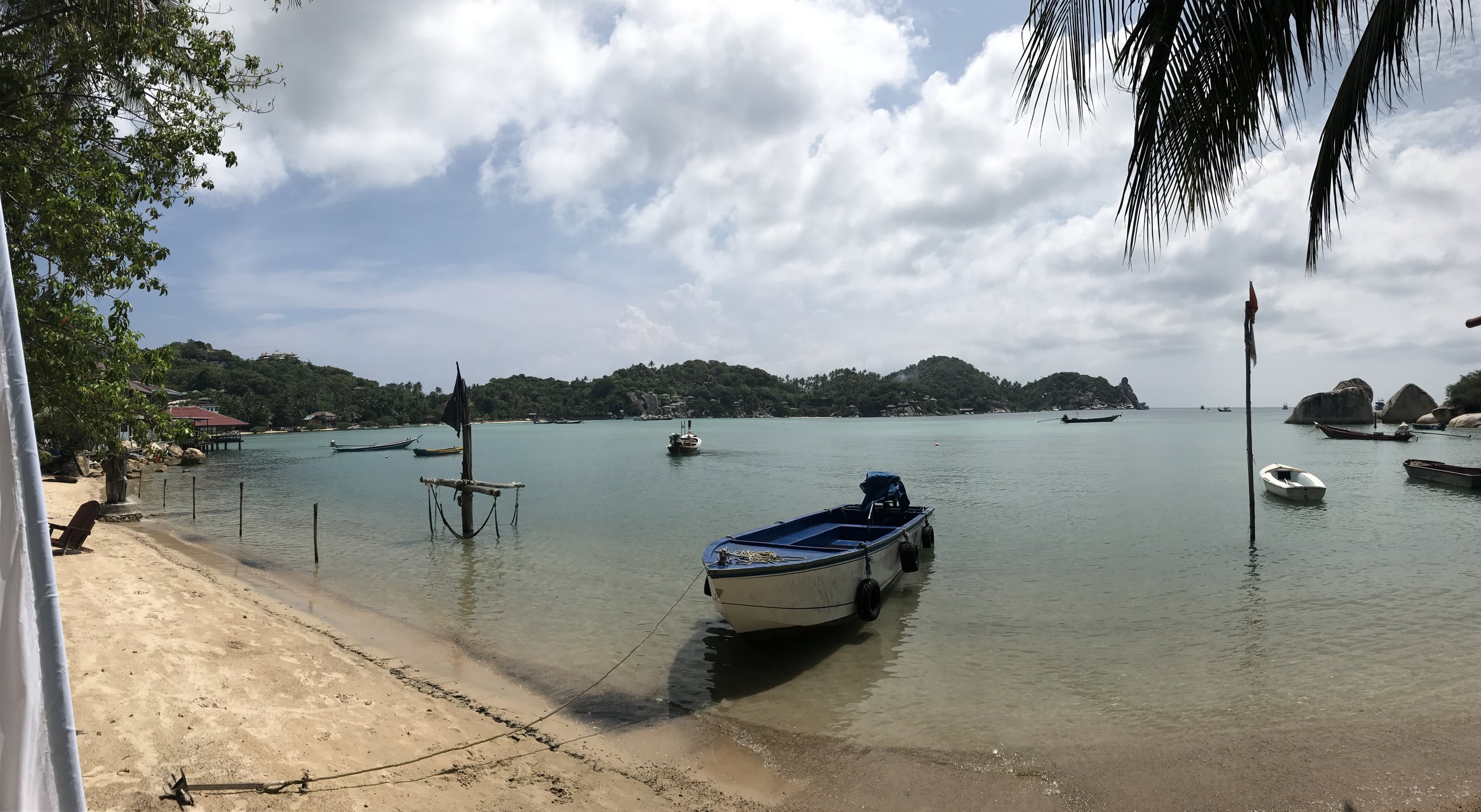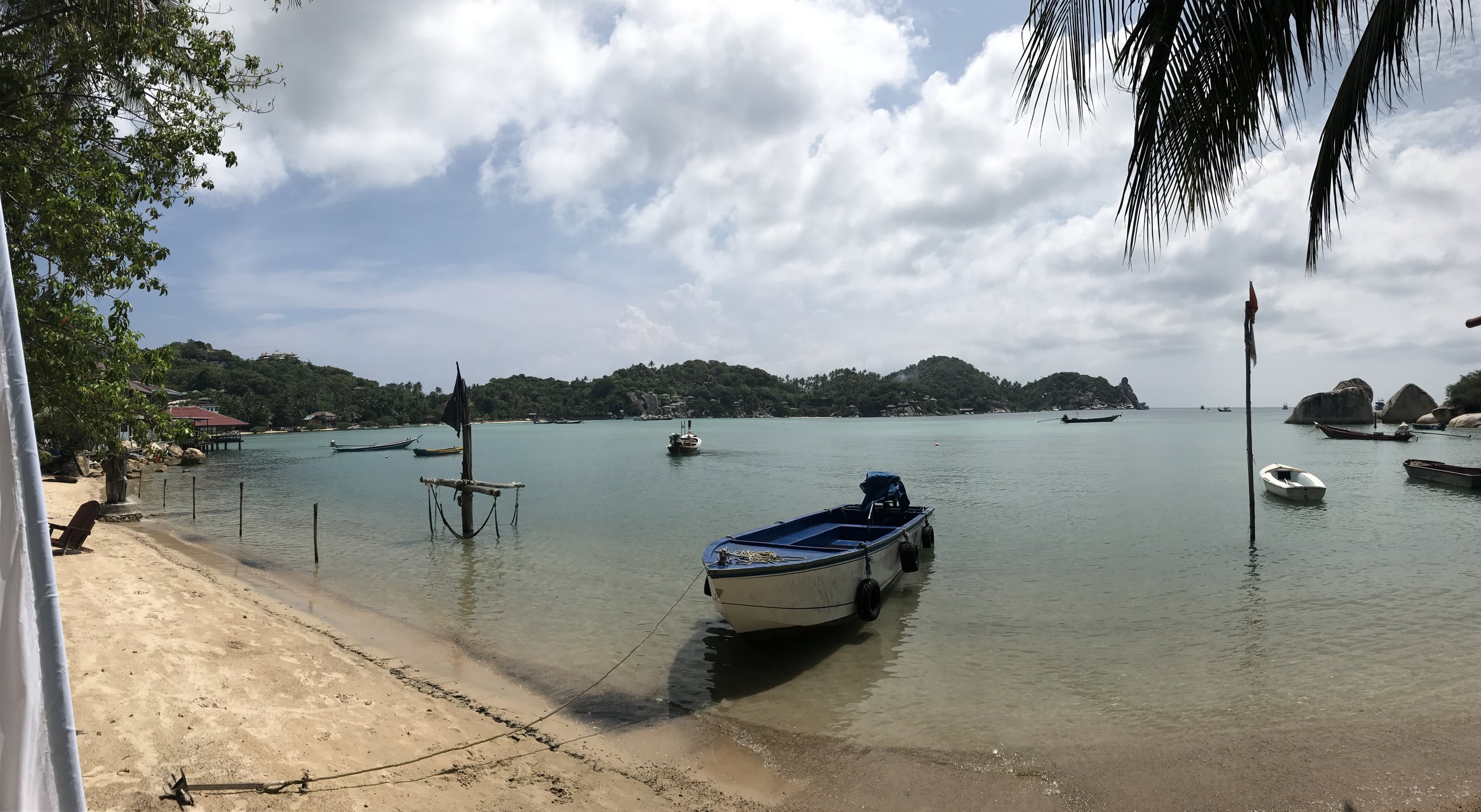 There is something unique & peaceful resting under the water. I was concerned I'd feel too trapped or claustrophobic, but instead it is calming, serene & loads of fun! We slipped through rock formations, around coral reefs, spotting eels, little "nemos" & even getting to hang out with a beautiful sea turtle. There was even a little time for some underwater yoga fun. Plus, you're spending your day on an awesome "pirate ship" in some of the most beautiful waters in the world. In the end – what wasn't to love?
After a long day out on the water, there was no better way to end it than a margarita at the Pirate beach bar. Lounging under the palm trees, staring up at the stars, it was easy to decide we could live the rest of our lives teaching yoga, working at the dive school, never needing to wear shoes again & possibly just living in a bathing suit. The sounds of the bay & the smell of the ocean is still my happy place whenever I need to recapture a little of that carefree zen.
Our new friends at Alvaro Diving really did an amazing job. Even with all my trepidations they managed to make it fun, safe & easy. However, just take our advice & literally stay at any of the other lodges they suggest.