We've been traveling so quickly & to so many "B" cities I keep getting tongue tied on where we are. Anytime someone asks where we are off to next, I have to look at Ben for an answer. Travel problems.
Budapest though, was everything we had heard about & more, making it incredibly memorable. In a way it reminded me of NY, not the flashy pretty Manhattan part, but the gritty, old 19th-20th century parts. Dark & brooding buildings which, for some reason, always inspire more in me than the artful & colored ones of other European cities. Maybe that's why I immediately felt at home walking the streets. Its like Prague's younger, hipster brother. Prague is the pretty & popular one, while Budapest is the up & coming grunge one. Its popularity is quickly rising which you can see it in the throngs of tourists who surround the Buda Castle complex & overload the bridge to it.
The capital of Hungary is made up of two distinct sections; Buda the hillier, ancient capital of the Hungarian Kingdom & Pest which consists of the flatter, larger part of the city just across the Danube river. The history, natural settings & bustling city means there is so much to do when you visit, its hard to be bored! Here are just some of our favorite sites & activities in this amazing city:
1. Hungarian Bath Houses
Budapest's perfect location along the river & atop 100+ thermal springs make it an ideal location for bath houses, one tradition they were happy to adopt & keep from their Ottoman occupiers. There are a variety of baths from your everyday, touristy party experience to the more traditional baths, depending on what you want; many, however, still have single-sex days per custom for the more traditional.
We decided to check out Széchenyi Baths, one of the most famous & largest in the area. At just over 100 years old, it is not the most ancient of the bath houses, but is extremely popular with tourists & locals alike for their 18+ bathing options & weekly Saturday pool parties. You can grab a bite to eat, a couple of beers or take a water aerobics class! We did none of those, haha, but did lounge by the pool & check out the indoor thermal baths & sauna. If you are looking for something a bit more traditional or laid back, don't worry, Budapest has an option for every taste!
2. Ruin Bars & the Jewish Quarter
The ruin pubs & bars of Budapest are unlike anything we have ever seen before. Built up in actual ruins of buildings, homes, schools etc. all left to decay after WWII, they made the perfect spot for a resurgence of underground nightlife in the city. Like anything, they vary in theme & size so there's one for almost everyone, & they definitely add a unique touch to the city. If you are looking for a quiet & cozy, less touristy spot, try Csendes Társ, a perfect spot for a coffee or beer. Instant however, is almost beyond words in trying to describe it. Definitely not a "cozy" spot, this place is pure party with its labyrinth of staircases weaving through old stone ruins, out to large destroyed or abandoned courtyards, multilevel bars & DJ stages. You could find yourself lost in any number of side bars & will without a doubt stay too long dancing to the best of the 90's R&B. Not that we know anyone who did that….
The Jewish Quarter, where many of the pubs are housed, has made a complete transformation in the last few decades from the old slums & abandoned buildings during the wars to a lively area full of restaurants & cultural arts. If you are looking for a unique local experience, head to Absinthe Tapas Bar which, as you may have guessed, provide just that - absinthe & tapas dishes. If you are feeling adventurous try the Absinth Beetle, Ben did. Eeek.
3. Budapest's dazzlingly Churches
Absolutely not to be missed, its worth a trip to both Matthias Church & St. Stephen's Basilica. Both incredibly unique, Matthias sits atop the Buda hill near the castle complex. It is one of the most ornate churches we've ever stepped inside with a long history of Habsburg (always the Habsburgs…) coronations, German & Soviet occupation, & finally a long overdue restoration to bring it to its proper glory.
St. Stephen's Basilica is named for Stephen I, considered the founder of Hungary & later canonized. The basilica is enormous, theres no other way to describe it, but incredibly detailed on the interior. You'd have to be blind to not be dazzled by the marble floors, columns & gilded alcoves with statues. It is a completely breathtaking church complete with a windowed dome flooding the center with light. Plus it contains Saint Stephen's mummified hand on display, so that's always an interesting site as well.
4. Old & new cuisine - a foodie paradise!
Being the younger, hipster brother of Prague, the food scene is incredibly diverse & can satisfy just about any taste. From traditional, meaty Hungarian dishes to vegan cheesecake, you will never run out of options to try.
Traditional Hungarian dishes are plentiful around Budapest. The delicacy consists of meaty dishes like Goulash (a beef centered stew) or Lángos, a deep fried flatbread topped with sour cream, grated cheese & garlic - a health nut's delight! Numerous places in Pest boast traditional Hungarian food, especially along the pedestrian street - just avoid the ones with tourist menus to get something more authentic!
Much to our surprise, there is actually a big vegetarian scene to Budapest. Maybe influenced by the "up & coming" generation or the large Jewish community, many purely vegetarian restaurants & places with extensive vegetarian options have exploded in the past few years.
We recommend Napfényes Étterem és Cukrászda which created delicious vegetarian versions of many traditional Hungarian dishes & also offers some amazing vegan desserts!
5. Natural surroundings
While the city itself is amazing, its natural attractions deserve a little attention as well. To escape the summer heat you can take a quick stroll over to Gellért Hill for a nice shaded hike to the citadel. It gives you beautiful panorama of the city & view over the Danube & at the bottom are the famous Gellért Baths for another quick dip!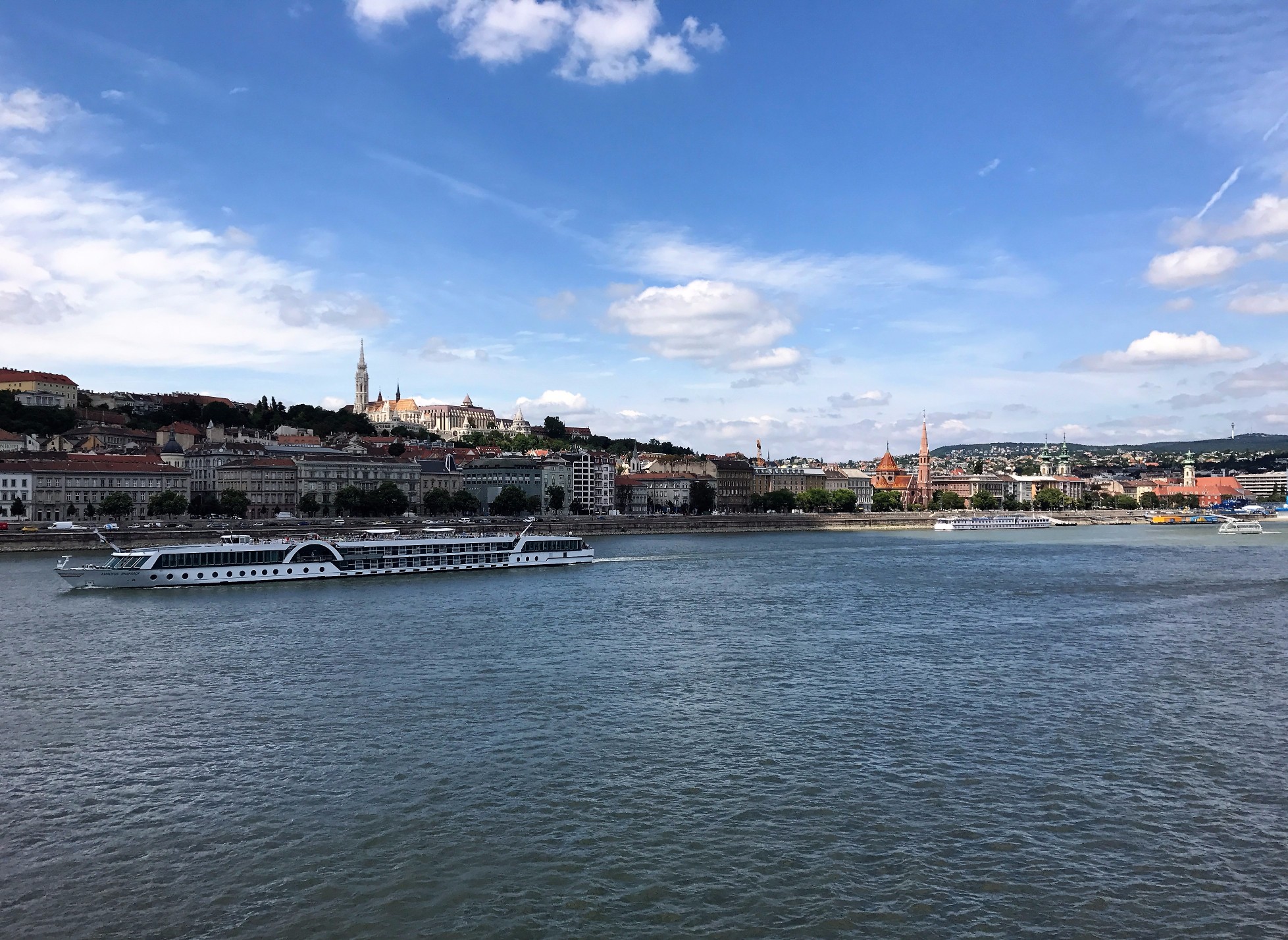 Or you can take advantage of the beautiful Danube river & view both sides of the city from their numerous boat cruises; from sightseeing to wine tasting & even concerts by boat you can spend hours slowly drifting along the riverbanks.
As we said, its hard to be bored in a city like this! It is easily one of the most amazing Central European cities, fast becoming a "must" for all of Europe. For everything it has to offer, it is amazing it has stayed as "under the radar" as it did for so long, but its beauty & charm will be enticing visitors for years to come.